February 18, 2019
Patients do not need to wear their Twin Block full time! A new trial.
Most of us ask their patients to wear their Twin Block full time.  This new study informs us that this is not necessary.
Occasionally a study team carry out a trial that changes practice, and I feel that this new trial is one of these studies.  Most of the time we ask our patients to wear their functional appliances full time.  However, we do not really know if our patients achieve this target. Fortunately, the development of intra-oral timers has allowed us to measure compliance with removable appliances, and these investigators used this new technology in this trial.
Effectiveness of part-time vs full-time wear protocols of Twin-block appliance on dental and skeletal changes: A randomized controlled trial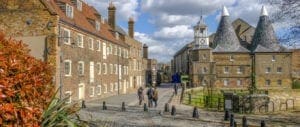 Jeet Parekh, Kate Counihan,  Padhraig S. Fleming,  Nikolaos Pandis,  and Pratik K. Sharma
Am J Orthod Dentofacial Orthop 2019;155:165-72https://doi.org/10.1016/j.ajodo.2018.07.016
A team from Barts and the London School of Dentistry and Bern did this study. The East End of London is a historic area of London and Bern is a sophisticated Swiss city. The AJO-DDO published the paper.
In their introduction, the authors point out that the Twin Block has been the subject of many clinical trials, but no-one has addressed the issues of compliance with this appliance.
What did they ask?
They did this study to;
"Compare the dental and skeletal effects of Twin Block wear when prescribed for either full or part-time wear".
What did they do?
They did a parallel group randomised trial with a 1:1 allocation.  The PICO was:
Participants:   Class II Division 1 patients aged 11-13 years old with overjets greater than 7mm.
Intervention:    Advice to wear Twin Block part-time for a total of 12 hours a day.
Control:           Advice to wear Twin Block full-time, except for eating and sport. (22 hours a day).
Outcome:       Primary outcome was overjet reduction. Secondary outcomes cephalometric skeletal change.
They fitted each appliance with a Theramon microsensor into one of the blocks.  They did not let the patients know that their treatment was being timed.
Their sample size calculation showed that they needed to enrol 62 patients in the study. They used pre-prepared randomisation and concealed the allocation using sealed envelopes. They could not blind the clinicians. However, they collected all their data from anonymised cephalograms.  Their statistical analysis was an appropriate use of analysis of covariance.
What did they find?
62 patients enrolled in the trial. At the end of the 12 months, 55 patients completed the study. 6 of the full-time and 1 of the part-time patients dropped out.  The groups were similar at the start of treatment.
The mean overjet reduction in the full-time group was 7mm (SD=2.92) and 6.5mm (SD=2.62) in the part-time group. These differences were not clinically or statistically significant.  They also found no differences in the anteroposterior skeletal measurements. For example, ANB change for the part-time group was 1.5 degrees and 1.25 degrees for the full-time group.
There were more girls in the full-time group, but when they accounted for this in the statistical analysis, it did not have an effect.
Finally, when the looked at the actual time of appliance wear, they found that the full-time group only wore their Twin Blocks for 12.3 hours (51% of the suggested time) and the part-time group wore the appliances for only 8.7 hours (73% of the prescribed time).
Their overall conclusion was;
"There are no differences in skeletal and dental changes between full and part-time wear of a Twin Block".
What did I think?
I thought that this was a great simple study that answered a clinically relevant question.  The methods were sound, and the paper was reported very well.  It was great to see a straightforward report that satisfied the CONSORT guidelines.  There was minimal bias in the study, and the stated confidence intervals were narrow, suggesting limited uncertainty.
There were several significant findings. Firstly, the patients did not wear their appliances as much as the orthodontists hoped. This has been reported in other studies that have used Theramon timers. In other words, we don't get full co-operation.  One issue is that I think that the operators did not provide feedback on appliance wear to increase co-operation. However, they did input based on the overjet reduction at each visit.
They also reported that more of the patients who they asked to wear the appliance part-time completed the study. This suggests that perhaps there is better co-operation when we ask our patients to wear the Twin Block when they are at home or at night, as opposed to when they are at school.
The most important finding was that the duration of the appliance wear did not make a difference to the outcome. While we may be surprised, we should also think back to Proffit's work on the duration of force required to move teeth.  He pointed out that this should be greater than 6 hours to enable tooth movement. As a result, the findings of this study do have some theoretical basis.
Finally, the results of this study suggest that we can ask our patients to wear their Twin Block part-time and still make good progress with their treatment. This is a clinically important finding.

Emeritus Professor of Orthodontics, University of Manchester, UK.