October 13, 2022
Popular posts 3: Be aware of old retainers
One of the most popular posts on this blog was about the potential problems with old retainers.  It was unusual to publish a case report. But there was a lot of discussion about this very interesting post,
This is a guest post that is a case report about some problems with old bonded retainers. I thought it was interesting.
This post is by Ken Hansen, Head of the Orthodontic Clinic in Gothenburg. This large clinic employs 17 orthodontists providing care to a population of 500,000.  It has an excellent reputation for treatment and research.
Retention
We all know that retention of orthodontic treatment is a dilemma for most orthodontists. For example, Bob Little summarised the findings from the long-term relapse studies from the University of Washington by stating:
"Arch length decreases after orthodontic treatment. Arch width measured across the mandibular canine teeth typically reduces posttreatment, whether or not the case was expanded during treatment. Mandibular anterior crowding during the posttreatment phase is a continuing phenomenon well into the 20-to-40 year's age bracket and likely beyond"
As a result, many orthodontists practice long-term retention with bonded retainers.
Bonded lingual retainers were first described in the late 1970s. They became more popular during the 1980s and 1990s. Since then, several studies have concluded that bonded twisted retainers effectively keep the anterior teeth aligned. As a result, the multistrand retainer became very popular.
Moreover, due to the depressing findings from Little's group the tendency to let the bonded retainers stay for many years has increased, at least in Sweden. Orthodontists often delegate retainer reviews to the general practitioner. Unfortunately, some of our patients do not return to their general dentist for regular care. As a result, there is limited long-term monitoring of the retainers. This may lead to problems.
Problems with bonded retainers
There have been a few reports in the literature on the side effects of broken retainers. At the specialist orthodontic clinic in Gothenburg, we have, during the past years, seen some very unpleasant side effects of intact retainers that have been in the mouth for 5- 10 years (Fig 1 and 2). The patients (15-20 cases) were treated in different parts of Sweden so it is not caused by a special brand of twisted wire. It seems as if a twisted retainer wire can start to de-rotate or de-twist after a certain number of years (Fig 3). The progress is probably extremely slow. This means that the tooth may gradually perform a torqueing movement with lingual or buccal root torque.
We should carefully examine all teeth with new gingival recessions that are attached to a twisted retainer. If we see any potential change in root torque, we should remove the bonded retainer and reassess the need for any continuing retention.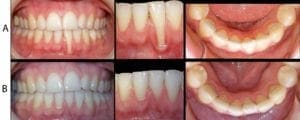 Figure 1. A. Patient treated 5 years ago seeking care at the dept. of Periodontology. B. after orthodontic treatment with lingual root torque of 31 and a slight lingual tooth position to put the root back into the alveolar envelope.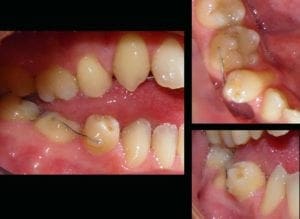 Figure 2. The patient was referred by a general practitioner. The buccal retainer has been in the mouth for more than 10 years. The retainer might be slightly deformed, but the lingual root torque could only be accomplished by de-rotation of the twisted wire.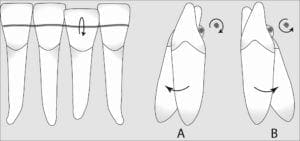 Figure 3. Schematic drawing of a retainer de-twisting, causing buccal (A) or lingual (B) root torque.
Emeritus Professor of Orthodontics, University of Manchester, UK.