August 26, 2019
Direct to consumer orthodontics arrives in the UK!
Direct to consumer orthodontics has travelled from the USA to the UK. I thought that I should have a look at this method of delivery or promotion of care. I will concentrate on the viewpoint of the regulation of dentistry.
Smile Direct Club and Invisalign stores are new developments in orthodontic treatment provision. Importantly, they both start the process of orthodontic treatment without a person seeing a dentist.  However, they use different methods. As a result, I am going to spend some time looking at their practices.
This is a direct to consumer orthodontics providing organisation.  They offer treatment with clear aligners at a cheaper rate than orthodontists and dentists. In short,  a person who wants treatment with their appliances can take impressions of their teeth using a kit sent to their home. Alternatively, they attend a Smile Shop. At the Smile Shop, they are seen by a member of staff who looks in their mouth and discusses treatment with them. If they are suitable for treatment, they take a scan of their teeth. The staff member then submits the scan and any other information to SDC. Then a registered dentist or orthodontist approves the aligner treatment plan. They then post the aligners to the patient who starts their treatment. The registered dentist then monitors the tooth movements remotely. It appears that at no point does the patient have a direct face-to-face consultation with a dentist.
Invisalign Pop Up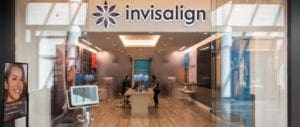 This model is different.  A person who is interested in Invisalign treatment attends the pop-up store. They see a member of staff who discusses Invisalign treatment with them.  If the person is suitable for Invisalign treatment, they are referred to a local dentist or orthodontist provider for further assessment and treatment. It is not clear if the member of staff looks at the patient's teeth. I will return to this later.
What is the legal position?
Several people have raised questions on the legality of direct to consumer orthodontics.  This is because the initial contacts in the stores are not always registered health care professionals.
In the UK Dental Care is regulated by the General Dental Council (GDC). In the past, I have been a member of the Board and the Chairperson of the GDC. As a result, I am very familiar with the regulation of dentistry in the UK.
I want to address several points. Firstly, UK regulation is clear, a person who is not a registered dentist or dental care professional (dental nurse, hygienist, therapist, clinical dental technician or orthodontic therapist) is not allowed to practice dentistry.  Secondly, if a dentist provides remote care without seeing the patient, they are still liable for that care.  Finally, informed consent must be obtained.
So what do I think are the implications of this type of delivery of care?
Invisalign
In my opinion, this depends on the definition of the practice of dentistry. This means that we need to look at the role of the staff member in the store. I am not sure if they look at the teeth of a potential patient.  If they do not "examine" the patient there are no issues. However, if they look in potential patients mouths and have a conversation on their suitability for Invisalign treatment. This is, arguably, the first stage of orthodontic care. In effect, they may be practising dentistry. Nevertheless, this is open to interpretation, and it will depend on the viewpoint of the regulator.
Smile Direct Club
I think that this is clearer.  The staff member looks at persons mouth and then takes a scan. This is then sent for planning (by a dentist) and appliance construction.  If the staff member is not a dentist, then this may be the illegal practice of dentistry.  Even if they are a dental nurse, they can only take impressions under the prescription of a dentist. Importantly, if they took impressions, they would be putting their registration at risk.
Furthermore, it is also clear that the dentist who approves the treatment plan is liable for that care and is responsible for informed consent.  The GDC is clear on this, and they state
"You must ensure that the patients understand the decisions that they are being asked to make".
In my opinion, this cannot be done remotely without a direct conversation with the patient.
Is this important?
In my academic and clinical opinion, I feel that this is very important for the protection of the public. I think that the Smile Direct Club issues are apparent, as the patients are not seeing a dentist. This is less clear with Invisalign because a dentist is providing the treatment. I am very interested in seeing the viewpoint of the General Dental Council on these models of delivery of care.  If they make a statement or take action, I will discuss this again on my blog.  The British Orthodontic Society have made a comment in response to me showing them this post and I have put it in the comments section.
Emeritus Professor of Orthodontics, University of Manchester, UK.