January 20, 2020
Which closes spaces faster en masse or two-step retraction?
This post is about a new paper that investigated the simple question of what is the best method for extraction space closure.  I thought that it was an interesting small study.
One of the most complex part of a course of orthodontic treatment is the closure of extraction spaces.  This needs to be managed well and certainly increases treatment time.  Indeed, I am sure that one reason for the current trend for non-extraction treatment is to avoid the complexities of space closure, as non-extraction treatments are less complicated. However, in many cases, it is necessary to "commit the crime" of extraction of premolars.  When this is done, we have two main choices of the type of mechanics for space closure. These are en masse retraction when canine to canine are retracted in one step. Alternatively, we may decide to use a two-stage method where we retract the canines followed by the incisors. 
I remember when I was training, we used to use the two-stage method.  I was told that it was less intensive on anchorage. However, this did result in rather unsightly spaces as the canines were retracted. It then became trendy to use en masse retraction. We were sold on this because we were told that it was faster and more aesthetic.  So I changed my mechanics to en masse.  Surprisingly, there have been few trials of these different methods. I was, therefore, interested to see this new trial published in the open-access Angle Orthodontist. A team from Sao Paulo, Brazil, did this study. They have published a paper on part of this trial earlier this year.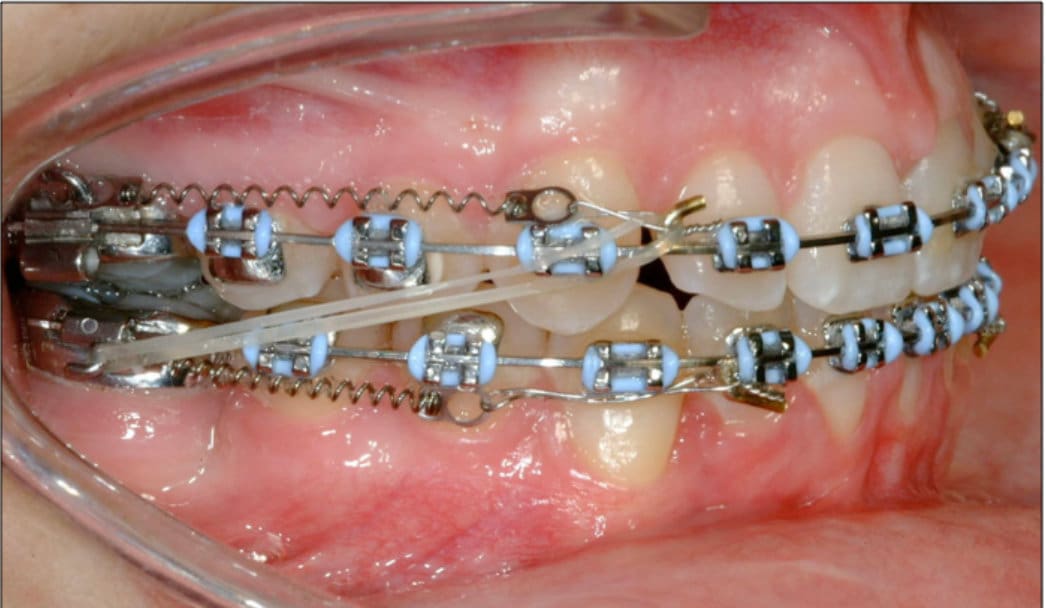 What did they ask?
"Is en masse or two-stage retraction faster at closing orthodontic extraction spaces"? 
What did they do
?
They did a parallel-group RCT with a 1:1 allocation.  The PICO was 
Participants: Orthodontic patients older than 18 years old with bimaxillary proclination with mild incisor crowding. They had premolars extracted as part of their treatment.
Intervention:   En Masse retraction. They retracted all incisors and canines in one step. They used sliding mechanics on a 17×25 SS wire with 200g force from a NiTi closing spring. .
Control:  Two-stage retraction. They fitted an 020 round SS wire with flush omega loops.  They then use NITi springs with a force of 100g to retract the canines.  When this was complete, they fitted 17×25 SS wires and retracted the incisors using NiTi springs with a force of 100g
Outcome: Duration of space closure.
They saw the patients every 4-5 weeks for reactivation appointments.  They recorded the following information from the patients' record.
Start of retraction (T1)
Date of completion of space closure (T2)
They then calculated the total retraction time of space closure in months.
They analysed the data with survival curves with the outcome measure of space closure time for each premolar space.
The patients were allocated to the interventions using a simple randomisation technique. I could not find any details of the method of sequence generation, concealment of allocation and blinding of examiners. I was also surprised that there was no sample size calculation. This is important, and I will come back to this later.
What did they find?
They enrolled 48 participants in the trial.  All the participants completed the study. 
There were no differences between the groups at baseline.
The mean time for space closure for the En Masse retraction group was 13 months (SD=0.5), and for the two-stage group, this was 25.7 months (SD=0.5).  The Kaplan-Meier curves confirmed that there was a statistically significant difference between the space closure times for the two methods of space closure.
Two-stage retraction took between 1.8 and 2.2 times longer than en masse retraction.
Their overall conclusion was:
"En Masse space closure was clinically and statistically faster than two-stage retraction".
What did I think?
This was an interesting small trial that looked at a clinically relevant question. I was very interested to see such a significant difference between the two interventions.  Importantly, this difference in space closure duration may lead to similar differences in overall treatment time.  I would, therefore, really like to see the total length of treatment as an outcome of this trial, and it is a shame that they did not report this.
I think that it is also essential for us to consider that the unit of analysis in this study was individual premolar space closure.  While I agree that this is an important outcome. I wonder if the study would have provided us with more useful information if the authors had also presented data on the time for all space closure per patient.  This would let us know the duration of the space closure phase per patient for each of the interventions.
A rant about the reporting of this study
I was surprised to see that the authors did not provide any details of the sample size calculation, sequence generation, concealment and blinding. This puts this trial at critical risk of bias. In fact, I am surprised that the referees for the journal accepted this paper without this information. 
We clearly need higher refereeing standards for papers of this type.  Importantly, these factors are covered in the CONSORT guidelines. The Angle has not adopted these and has not endorsed them> Whereas, the AJO, EJO and JO require authors to comply with them.  Perhaps, the Angle should consider raising the standards of reporting trials by using the CONSORT guidelines?
Final comments
You may feel that I have been too critical of this study. However, we need to look at clinical studies carefully. We can then decide if we can change or continue with our practices.  Nevertheless, when I consider everything, the results may be sufficient to reinforce my method of using en masse retraction.
Emeritus Professor of Orthodontics, University of Manchester, UK.