December 22, 2016
Are Class II elastics as effective as a functional appliance? A trial that may answer this question
Are elastics as effective as a functional appliance?  A trial that may answer this question
Occasionally when I have given a lecture on functional appliances several people have asked whether I think class II elastics have a similar effect to the functional appliance. I have always replied that I am not too sure. This new paper may provide us with a potential answer to this question.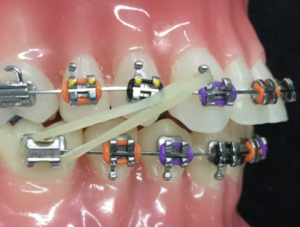 Class II subdivision treatment with the Forsus Fatigue Resistant Device vs intermaxillary elastics
Isil Aras; Aylin Pasaoglu
Angle Orthodontist: On line. DOI: 10.2319/070216-518.1
This trial was done by a team from Istanbul, Turkey
The trial was on two methods of  treatment of Angle class II subdivision malocclusion. This is where the molar relationship is Class II on one side and Class I on the other. The authors point out that there are many types of treatment mechanics that are used for this problem. However, there appears to be an increasing trend to use Class II elastics and/or fixed functional appliances.
They carried out a randomised controlled trial to find out the relative effectiveness of class II elastics or fixed functional appliance treatment.
What did they do?
The PICO was;
Participants: 34 patients with angle class II subdivision malocclusion.
Intervention: Forsus Appliance
Comparison: Class II elastics to fixed appliances
Outcome:  Study model analysis and multiple cephalometric measurements!
They randomised the patients by dividing the patients into 17 pairs with similar malocclusions. They then tossed a coin to allocate treatment with either a Forsus appliance or Class II elastics. (I will come back to this later).
They collected data at the start of treatment and 10 to 12 weeks after fixed appliance removal. They measured the molar relationship on study casts and analysed multiple cephalometric measurements many times.
A blinded examiner recorded the data. They carried out a sample size calculation that was based on midline correction.
What did they find?
I was disappointed to see that they removed two patients from the elastic group because of poor cooperation. This means that the study would have become biased.
They provided a large amount of data, particularly cephalometric. I have put what I considered to be the most relevant data in this table.
Attention: The internal data of table "44" is corrupted!
I think that the most important findings were the following:
The overall treatment time was significantly shorter with the Forsus
They did not find any difference between the interventions when they looked at the multitude of cephalometric measures.
The mandibular incisors were proclined in both groups.
The Forsus sample showed a significantly greater improvement in overjet but this was only by 0 .9mm. I do not think this is clinically significant.
What did I think?
Firstly, I think we need to consider that they did not investigate the traditional functional appliance treatment for Class II malocclusion. Nevertheless, I wonder if this study does provide an illustration of the comparative effect of a fixed functional appliance and elastics.  In general, I thought that this was a good small trial. The authors should  be congratulated on attempting to answer such a relevant clinical question.
Nevertheless, there are some problems with this study. These are;
The method of randomisation did not conceal the potential group allocation from the investigator. This could lead to bias.
They removed data from patients who could not comply with treatment. This is a fairly basic problem because this means that they only collected data on patients who cooperated. This, of course, leads to selection bias.
The sample size was based upon midline correction. This did not appear to be their primary outcome measure. As a result, the study may have been underpowered for other outcome measures.
The analysis of multiple cephalometric variables that are related to each other could easily result in false findings. I have discussed this before.
While I may have been critical, I still feel that  it was interesting to find that their results do not show any evidence of a difference between these two interventions. This may suggest that the action of the two interventions are similar. When we consider that most research has shown that functional appliances simply tip the teeth, then this result is somewhat logical.
Unfortunately, because of the issues that I've highlighted in study design I'm still not able to answer the question that I posed at the start. Which is a shame.
This study only provides us with weak evidence on this interesting problem. But it certainly acts as a model for future research.
Emeritus Professor of Orthodontics, University of Manchester, UK.